... .. . .. . .. . . .. ... . . .
Rather then continuing on with my current Saturday theme called
Silently on Saturday
... I've decided to join up (from here on out) with my sweet friend,
Jenn, from A Country Girl's Ramblings
- for her
Simply Saturday
Link-up Party, instead.
And, you can too! See Jenn's blog for details...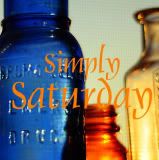 ****
The photos I take will still be only one photo with little or no words... just something from around our home over the course of the day - on Saturday.
It's not a very "clear, articulate" photo but the idea is clear enough - we're (all) climbing the walls around here!!
Happy Saturday!!