. .. .. . .. . .. . .. . . .. . . .. .. .
I've been reading long and slow, this book called
One Thousand Gifts.
After reading it so intently - it makes me want to write like
Ann
. :)
I'm only just through chapter four... and I had to chuckle when I read the part about her camera (to practice thanks; to hammer thanks) being used to capture the plate of curling cheese; getting caught by her husband and he liking what he saw. Her being "crazy" to capture a photo of shredded up mozzarella and cheddar cheese, or so she thought... but no, he like what he saw - with her being thankful in the little things and
capturing that thanks
into a photograph.
I sighed.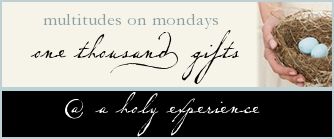 ***
Some people don't quite understand
the
my use of a camera. I *FEAR* getting caught - looking all silly. What are "they" going to think of me? And, so... I choose whether to show thanks with the camera - or not.
I found this quote in a Dove candy wrapper, yesterday, that as I was thinking about "capturing that thanks" - it could not have come at a more timely moment. It reads.
The more you praise and celebrate your life, the more there is in life to celebrate.
Here are a few of my
photo
thank-offerings:
5. for sweet treats of ice cream and pretzels - a perfectly, ideal combination
6. for my sweet friend and her contagious laughter - that I miss so much
7. when my little ones (eventually will) take a nap - one way or another
9. for the wide-eyed look of wonder and the excited smile as my girl anticipates the "pop" of the Jack-in-the-box
10. for the suggestion of "out to dinner" on Saturday evening
11. for clean laundry
12. for
two
wash baskets that give pure, boat-like entertainment to both little ones
13. for Grandma initiating and being willing to babysit - on a whim
14. that this past week (a long one) is over
15. a husband who cares enough to listen
16. a piece of chocolate candy - every now and again

to be continued...