. .. . .. . .. .. . . . .. . . . .. .. . . . .
One Thousand Gifts...
is the book I've been reading ever so slowly and I'm still trying to make sense of the why and how far I've drifted from housing gratitude in my life.
I told you that I've been feeling the need to "get back". To grow in this grace of gratitude, for my life. It's hard. I don't like that I've succumbed to thoughts of "ohhh, I need to quick come up with something - just to fill this post"... those thoughts have come, and I cringe.
Then the part in her book (p. 52-54) where she
(Ann)
and her husband are talking about "the naming" has stuck with me. Just to name it... makes all the difference...for understanding. For peace. For knowing.
I would like to add:
it's the practicing
of
naming the thanks
... no matter how big or how small. To do something - over and over, like to "practice makes perfect"... where it eventually becomes first nature, and not just second.
I would like that. A lot.
17. the first sightings of Mr. and Mrs. Robin
18. fresh clean sheets brought in off the line of line upon line of laundry... and returned to the bed for a sweet smelling night of sleep
19. that my friends surgery went well and she is on the mend
20. bare toes
21. a good Dr. visit - the baby in the womb growing; doing well, especially at being a lil stinker - already
22. for meat in the freezer
23. the smile and look in my hubby's eye from across the room
24. 'rejoicing with those who rejoice' -
sharing in friends pregnancy news and swapping stories with them over a lunch invitation
25. when my little ones actually agree - and play nicely together - using their manners.
26. well water
27. that I can enjoy the smell of a cup of coffee again. I had lost that for a couple of weeks...it's back ;)
28. every single window in the house - sparkling clean
29. for my "wing-man" -
you know who you are - thank you!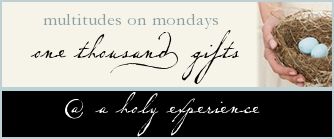 : : Are you naming your thanks?