.. . . . .. . . . . . . .. . . . .. . . .. .
If it wasn't for this dear treasure in my home... I don't know...this home would be a sincere disaster.
Just kidding.
But... once again, I'm just
being honest
coming clean
when I say I really don't LOVE to clean.
This bissel sweeper has been a super duper blessing to me and our family. I use it nearly every. single. day. Sometimes twice a day.
If you would like to read a couple of previous posts that I've done on this subject see
HERE
(minus the giveaway- sorry!) and
HERE
. Enjoy.
***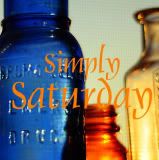 Linking up today with
Jenn,
from
A Country Girl's Ramblings.
Have a wonderful rest of the weekend. It's cold here today. A good day to stay in and clean. Ha!