. .. . ... . .. .. . . . .. . . .. . . . . .
****
What to make, What to Make?
We're having guests dear-to-our-heart friends, in our home, for lunch tomorrow, after Church.
Again.
This family, of six, lives quite a distance from our church (they travel the distance faithfully and willingly) - so, from our inviting them, it feels like they come over about once a month (give or take), but it's a simply a
pure joy
to have them in our home, at any given time. You should hear our son Caleb - begging- for them to come over in all the in between times. It's really cute!!!
The dilemma lies in what to make so that it feels like I'm not feeding them the same ole thing - over and over. :) Although, I have a feeling with some of the dishes I've made in the past - to have repeats would not be a problem - when it comes to growing, hungry little boys young men who LOVE to eat.
Even after all of the recipe searches and mulling over the recipe books...
I think...the dilemma is solved.
I may just have to settle for
THIS
tried and true recipe. I do remember I promised to make this (perhaps) the next time they came over.
Well, tomorrow is the day!!!
****
By the way, I'm linking up with Jenn, today, from
You can too!!
Check out her blog and link-up party to see what other's are doing in and
around their home, today.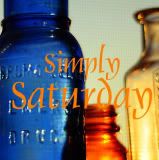 Have a wonderful weekend!!