. .. . . .. . .. . . .. .. . . . . .. . .
What to do?
I love this handmade bench. It was a piece of furniture that I designed, probably close to 14 years ago. I had asked the husband, of a dear friend of mine, to build it for me based on the picture I drew and rough measurements I gave him. It has a bench seat and so underneath the vintage down-feathered feed sack pillow is where I store all of my Princess House Chinaware. I know I should get it out and use the china more then I do. But, it's safe - at least for now.
This bench needs fresh paint job. Badly.
I love the white look to it. But, against this wall it can tend to get lost. I thought about a very pale mustard yellow of sorts - but it needs to be just the right aged pale yellow, or something.
Maybe a sage grey would be nice...or a celery green...
or, is antique white - just right?
I'm asking for thoughts, here, and suggestions.
The only thing is... it won't get done today, tomorrow or even this coming week. Do you have any idea how long I've been (already) thinking about doing this project?
I'll have to wait until someone (like my hubby or one of my brothers) can help to haul it outside, so I can give it's fresh new coat.
And, then to keep the little hands out of the paint would be part of the job, too. :)
I'm turning this Simple Saturday into a quandary...aren't I?
***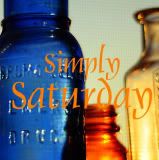 Linking up, today, with Jenn from
A Country Girl's Ramblings
for her Simply Saturday link up. You can too! Grab your camera and join in on the fun.