. . . .. . . . . .. . . . . . . .. . .. . .
In the book –
One Thousand Gifts
– she
(Ann)
, author of
HERE
, talks about the…
Ugly Beautiful.
I've been pondering that phrase for a couple of days, now and wouldn't you know? Here I am face to face, for my own, with what makes the beautiful – ugly, but then, needing
to choose
to turn that around into making the ugly – beautiful again.
I hope that makes sense.
Last week, I was unable to participate with this "gratitude community", due to our phone service being down for several days. Not fun! But, in that I've continued to search out those areas of my heart - where gratitude is lacking.
The phrase that keeps running through my mind is:
groping for gratitude
. Because that is what I feel like I've been doing. Hence, the title for this post. I feel like I was really having to look for it this past week, or so.
As you may have read, last week I was not feeling well. I still am not 100%. I guess being pregnant brings on a whole new dimension to colds and sinus infections and nasal congestion (hacking up a lung or two)...and you really can't take anything to help, for relief.
It's hard to find gratitude when you're not feeling up to par. You know? But, I've tried.
Here is what I found when starting to look...
30. with no land-line or Internet...I read more and colored more and snuggled more.
31. grateful that the 7 day (2x/per day) ordeal of a medicated eye-drop treatment for our son Caleb - is now over.
32. for two little kiddo's with super tender & sensitive hearts that remind me of my own daily need for Jesus.
33. for words to "My Story"
34. blooming yellow daffodils
35. baby's first-felt fluttering and the getting-stronger movements
36.
bag orders
continuing to come in (I wish I could simply keep up)
37. tissues....tissues....and more tissues
38. grey days
39. 50lbs of potatoes for $10.00
40. sharing God's abundant blessings, to us, with others
41. misunderstandings and the opportunities to make right
42. "pawease" and "no fanks" - manners being learned by my kiddos
43. even for snowflakes... when Spring's well on it's way, in coming
44.
Where I've Been
- and where I'm going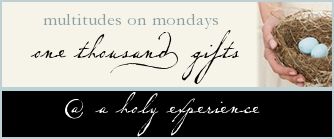 ****
You know those teeny - tiny black ants that start coming "indoors", getting into everything like *NEW* bags of sugar and all over the kitchen counter and couresing through the carpet this time of year? I have kept clean, prayed and sprayed for them to go away... but to no avail...Yet!... they keep coming indoors like a small army rank, ready to break me down.
I'm still

groping for gratitude

on this one
.