. .. . . .. . .. . . .. . .. . . . .. . . ..
Someone gave me a few forsythia branches in another flower arrangement, earlier this week. As the other flowers began to fade - I decided to add these few branches in with this other starting-to-go arrangement - of bittersweet. One of my favorite things. Branches.
I love the natural look - brought indoors.
I could tell, right away, the bright yellow was
a welcome change
to this corner of the room.
:WELCOME:
is what the white sign says, too ... although, it's rather hard to read.
****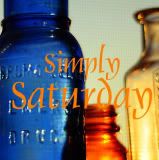 Simply Saturday has been temporarily moved to a new location.
Come join me over at
Lisa's
to see what others are posting for their Simply Saturday - link up!