.. . .. . . . .. . . . .. . . . . . . .. .
Good Morning, rather, I should say Good Afternoon!
I was off to a Caregroup Ladies Breakfast this morning...
and took this
Blueberry Coffee Cake
, as part of my contribution.
And immediately, after that, I was off to a Wedding! I never saw a more beaming and beautiful bride.
It was simply beautiful. Gorgeous day, too.
I wasn't invited to the reception, just the wedding service. So, I didn't get any photos of the real bride or of the wedding or of my handsome brother who happened to be one of the groomsmen. He's so cute...
But it did send me down memory lane... as I thought of our own wedding celebration - in the month of May. Actually, next Saturday will be our (Scott and I) 6th year Wedding Anniversary. Hard to believe...
Happy Mother's Day
- tomorrow!! And, like I said, a busy weekend. Tomorrow (late Sunday afternoon) Scott and I are going to a
Philadelphia Phillies
Game. A great date night - highly anticipated. A wonderful Mother's Day gift - for sure. ;)
***
Joining up, today, with
Lisa
who is currently hosting
Simply Saturday,
over at the
Army Chaplains Wife
.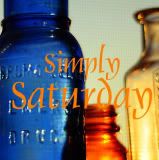 Have a wonderful weekend.