. . .. .. . .. . .. . .. .. .... .. .. . .... .. .. .. . . .. .. .... .
((Today I want to talk about two slightly different scenarios that I've been thinking about: And, I'm hoping to tie the two together so that it will make sense.))
You hear this comment made; "
What is that you're wearing? It smells so nice..."
Or, how about this one?
You know that sweater-gift you recieved last year? Well, the only real way to say "thank-you!" is to wear it.
I heard this last statement on the radio the other day and it got me to thinking
. Wear it? The only real way to truly demonstrate our thankfulness... is to "wear it"? I know this person was talking about the sweater gift... but could she have been implying - the thanks giving?
Like I said, I've been thinking about this for a couple of days, now. And, I know thankfulness is certainly something that I don't
wear
naturally. Being "grateful" or "thankful" all. of. the. time. can be rather
wearing -
if its not genuine. If you know what I mean?
But I've decided that the more I clothe myself
with
a spirit of gratitude...it actually kinda fits. Its growing on me. Its becoming more and more comfortable - fitting at least a bit more so then it did yesterday - like that favorite pair of blue jeans.
It even smells kinda nice.
Put on...the garment of praise for the spirit of heaviness... the oil of joy instead of mourning. (taken out of - Isaiah 61:3, KJV)
I like to think of it as purposefully, intentionally wrapping yourself up in that mindset...one that is not easily - or willing- to be taken off. Replacing what once was with the new and the now familiar.
How do you wear THANKS? Do you wear it well? Is it a sweet sense of style you've got goin'? Not because you
have to...
but, because you
get to
.
****
Continuing to snuggle deeper into the gifts I've been given - wearing that sense of gratitude on my sleeve... that sweet aroma coming off from behind me. I have been blessed.
(One Thousand Gifts)
#605. my sons excitement due to a surprise friday night playdate with his cousins, via Uncle Justin ~ precious face
#606. so much so, that he wanted to dance, with mom, in the middle of the kitchen
#607. we did...we twirled and laughed...holding hands, my son and I with my two left feet
#608. my 3 year old daughter's sweet kiss on my cheeks..."Mom! you're my best friend.", she says
#609. the way his white t-shirt wears snuggly across his frame
#610. that he wears his facial beard, just for me - because I love it!!
#611. the squeeze I feel in my heart when my baby girl coohs and smiles "her thanks" after a diaper change
#612. (speaking for my husband) last night....when the computer "lost" the whole evenings worth of typed out information/studies... but that...a majority of recovery was possible. (He wore it well!! - I noticed. I told him so!)
#613. the smell of fresh-air-line-dried laundry clinging to our clothes
#614. homemade soap - the scent of
Lavender and Honey Oatmeal
--- (found
here
).
#615. dark or white chocolate Reeses P. Butter Cups... can't decide which I love better
#616. humble
advice
AND encouragement from a friend, on marriage...found
here
.
#617. opportunities to bless others with a *new baby* meal, this week
#618. hearing my son
lament
...literally hearing him "just talking to God"
#619. playing in the piles of golden leaves
#620. bags & bags of hand-me-downs...
thank you
!
#621. Great is Thy Faithfulness...LORD...unto me.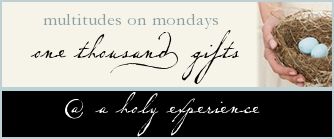 Let me ask you this. Do you think God "smells" the gift of our thanks? That he senses we are wearing it well?