. .. . .. . ... .. .. . ... .. .. . .. . .. .. . .. . .. ... . . . . .. . . . . . ..
***
So, the prompt for Whimsy Wednesday was this:
Don't cry because it's over. Smile because it happened.
And, this comes out of the fact that Kaitlin is ending her Whimsy Wednesday Weekly Challenge, early. For now, she says.
I'm a tad sad. Because I've been having loads of fun, with it. Apparently, there hasn't been too much of an active response in and amongst other folks and so for now... it's an indefinite good-bye! And, this is her reasoning. She also said she might pick it back up someday - but, I'm not sure when...! And, I'm not so sure she knows either.)
As for today's link - she may or may not keep up her end of the bargain, I perceive, as she may still be in serious vacay mode. I hope she comes through!! Because, she's always so amazing!!

Anyway. For your reading pleasure... here is...
The story behind today's Whimsy Wednesday photo.


As I thought about what to do for my part in this one-last photo challenge... there was this one afternoon where, at lunchtime, I requested from my kiddos - that I needed three volunteers!!! They were willing to give me either two smiley faces and one pouting - on the count of one, two, three - or two pouty and one smiling!


After several shots and attempts. Reality took over.

Folks!!! This here photo is as real as it gets. I don't know what the pout was over!!
But... I'll take it! lol!!
Five Minute Friday
How fitting that today's two posts will work to come together into one!!
I love it when this happens.
Today's prompt is:
find
. Taking just five minutes to write real and raw and joining with many other brave souls who all will write together on the same topic.
This morning around the kitchen table, one of my kiddo's asked the question. Why does this sunflower have to hang his head... so low?
We talked about it a bit. And, I asked. Don't
you
ever have moments, in your day, your life, where you have trouble finding your smile?
Yes!,
was the relating reply.
The flower was found bruised... and broken.. from the windstorm the other evening and in our attempt to lift it up, by putting it into some water
(with others)
-- well... sometimes, it takes time... to come around.
This explains how today's five minute friday post has come about.
::go::
You're spent.
You've been here before - this is not the first time.
You've struggled to find your smile.
Your head hangs low.
It's easier to stay in the slump and look down and away -- because,
it's over.
Then something changes.
Maybe you've been given a taste of new and living water.
It refreshes.
It bathes your soul. It fills you!
There is more to life than the constant frown upon your soul.
Your spirit awakens. Because,
hope always does.
Your soul lives.
You find your smile again -- because, you remember.
it happened
It happened!!! You were blessed to enjoy a moment. Though gone...
It's not over.
Really.
Don't cry because its over. Smile, because it happened
:: stop ::
***
Linking today with two link-ups.
Whimsy Wednesday Weekly Challenge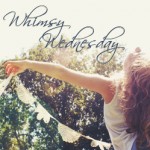 Five Minute Friday