. . .. .. .. .. .. . . . .. . . .. . . .
This is what we're hearing and seeing out our dining room bay window - this morning.
This morning and every morning here of late.
Canadian Geese enjoying their breakfast, lunch and supper... all day long... at the
Creepy Crawly Restaurant!
This Restaurant specializes in all kinds of bugs, crawling critters and worms, serving the best of grass seeds, in town . It's a fine dining experience, for all. In fact, there's always room for one more.
Disclaimer: Findings of this Restaurant are not of personal experience.
Even the cows agree.
***

It's Simply Saturday. I'm linking up today with Jenn from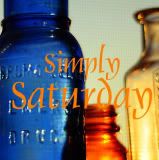 : : Photos taken from last fall. But, the field is full of geese, even this morning.